News From Jo - 22 September 2016
Given the polls, Leggett voters should seriously consider giving Jo Coughlan their first preference vote, unless they want Justin Lester to be their Mayor. Voters who wish to vote first preference Nicola Young, should vote Jo Coughlan as their second preference to get the best outcome for the city. See recent polls below...

Dear Wellingtonian
As candidate for Mayor, I've spent the past few months meeting the wonderful people who make this city hum. Wellingtonians fill me with optimism about our future, but they also impress on me the obligation we have to ensure our potential is met. We need to grasp our opportunities, and we need to do it now.
Leadership is vital. A clear vision and good relationships create confidence. On council it's mayoral leadership that counts. As Mayor I can do more to move the city forward. I'm proud to have the endorsement of two former Mayors, Kerry Prendergast and Fran Wilde. They know how to get things done.
Much of the infrastructure we're going to build will be paid for by central government, so working with whoever's in the Beehive is critical. Finance Minister Bill English said: "Jo is the only candidate who grasps the opportunity, and the opportunity is about getting stuff done." If we're to keep rates under control, Wellington needs to claim its rightful share of the national budget. That will be my first priority.
To do the things we need to do – double-tunnel the Mt Victoria and The Terrace tunnels, build an iconic harbour cycleway, grow the city's economy so world-class careers are available here – I need your support.
This is an STV election, which means I need your first preference vote for Mayor. If that can't happen for some reason, then please consider giving me your second preference.
You'll find the details of my Road Map for Wellington at joformayor.co.nz. I know the GoJo message is getting through because in a recent Stuff poll of 16,000 people, I led the field of mayoral candidates.
My business experience and time on the Wellington City Council as Chair of the Economic Committee allows me to hit the ground running. I want this city to give us all world-class opportunities. With your help we'll make it happen.
Let's go Wellington

Coughlan on road to Mayoralty: Polls show Leggett supporters should consider Coughlan as first preference unless they want Lester as Mayor.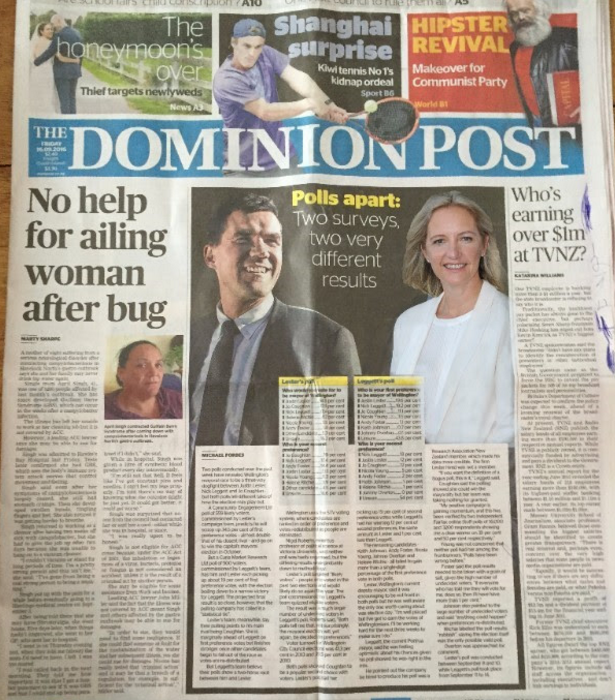 Disclaimer: This image has been "corrected" from what appeared in the Dominion Post on 16.09.2016 .

Wellington Mayoral candidate Jo Coughlan said today, "While there are three horses near the front, this is developing into a two horse race between Justin and myself.
"There are a significant number of undecided voters but these polls indicate that currently Lester is polling first, Coughlan is second and Leggett is third.
"Leggett voters should seriously consider giving me their first preference vote, unless they want Lester to be their Mayor."
Other polls have also been encouraging. Stuffs recent online poll of 16,000, asking who would be preferred as Mayor, had 35% voting for Coughlan, 28% for Leggett and 24% for Lester. In addition, a more recent online Stuff poll of 3200 asking who they had been the most impressed with, had Coughlan on 50%, Leggett 33%, Lester 12% and Young 3%. A recent "straw poll" at a Chamber of Commerce debate had 19 responses out of the 155 people in the room supporting Leggett.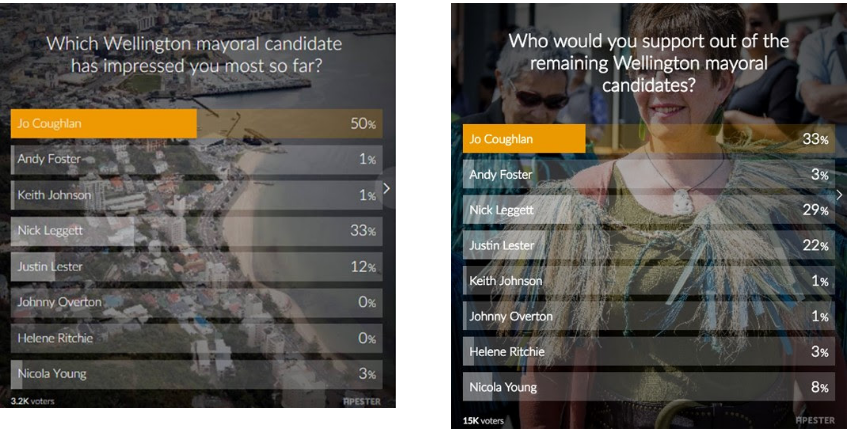 Voting papers have arrived
Voting papers should have arrived so don't forget to Go Vote Jo Coughlan #1 for Mayor. And if not #1 make her your #2 choice.
Going away for the holidays? Don't forget to Go Vote Jo before you go, or it will be too late when you get back!
#GoJo continues to run a very positive campaign. It has been extremely busy and continues to gain momentum.
Check out recent policies, media releases and activities below:
Be sure to have a look at my website to see my roadmap for Wellington's future.
Wellington mayoral candidate Jo Coughlan proposes revitalisation of Civic Square
Jo Coughlan announced on Monday she would make strengthening the Capital's earthquake-prone Town Hall a priority as Mayor.
Coughlan also promised to lead a revitalisation of the Civic Square precinct, which would include assessing the feasibility of converting the council's Municipal Office Building into a high-quality hotel, and relocating staff into "modern, efficient" premises.
Infrastructure package to Beehive by Christmas
Jo Coughlan said today it was time to look forward not back on the City's infrastructure. As Mayor, she will go to central government with a Capital City Infrastructure Proposal before Christmas,
Capital city to lead on electric vehicles – target of 75 per cent
As Mayor, Jo Coughlan will target 75% of WCC vehicles to be electric by 2020. "As New Zealanders, we all need to play our part to address climate change, whether that is switching off lights to save power at home, or being as efficient as we can at our workplaces. The Council also has a role to play, and as the Capital City we need to be leading and progressing initiatives that make a difference.