NEWS RELEASE: 30 August 2016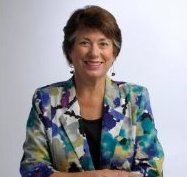 Mayoral candidate Jo Coughlan today announced she is honoured to have the endorsement of former Labour Party Cabinet Minister, Mayor of Wellington, and chair of the Regional Council Fran Wilde.
Coughlan is standing for Mayor only and as an independent candidate.
"I am very honoured to be endorsed by Fran Wilde who was a fantastic and visionary Mayor of Wellington."
Ms Wilde said today, "After looking closely at the three main contenders, I'm supporting Jo for Mayor because Wellington needs a clear, focussed and energetic leader.
"Jo has worked hard as WCC Economic Development Portfolio leader, but on the big issues it's the leadership from the Mayor that counts. As well as energy, Jo has the experience and maturity to steer Wellington through the next few years.
"She is young enough to have the energy and importantly, mature enough to have the judgement that is absolutely required for this role of Mayor of Wellington."
Jo has also received public endorsement from former Mayor Kerry Prendergast and paast mayoral contender Jack Yan who received nearly 10,000 votes in the last two elections.
Link to video: https://www.facebook.com/